Robust, Accurate, Affordable, Reliable, Takes Minutes to Set-up, the Raincrop from Sencrop
In field sensors:
Installed within minutes- mount pole with auger included as standard.
Attach your raincrop to the mast and switch on.
Register your system and view your data.
In build GPS tracker automatically geo-references the position of your station
Measures rainfall, temperature and humidity
Weather App
Rain crop weather station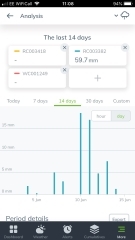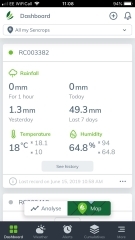 Mobile app indicating latest weather update, together with graphic weather summary.


Sencrop Temperature indicating min, max and average temp together with rainfall graph
Uses the latest Sigfox data network to send data from the field to the cloud. Ultra low power requirement means a battery change every 3-4 years making this a simple versatile system to move around your farm with ease.
Other Precision Weather Instruments Services
Login to your Agri-Tech account